Sindhupalchok is a district in the Bagmati zone, Nepal. It has many popular attractions places, including Tatopani Hot Spring Panchpokhari, Bhairav Kunda, Bhotechaur, Duguna Gadhi, Tauthali, Chautara, Sukute, Bhotekoshi (Rafting, Bungee), Helambu, Gaurati, Melamchi, Palchoki, Bahrabise, Jugal Mountain Range, Mude, Puskar, making it well worth a visit.
Places to visit in Sindhupalchowk are listed below.
1. Panchpokhari - Five Holy Lakes
Panchpokhari is one of the most visited tourist destinations in the Sindhupalchok district. It is very famous for religious and adventure destinations. Located in the lap of the Jugal snow range, this tourist destination is a must-visit place in the Sindhupalchok district. It is at an altitude of 4100 meters above sea level. Panchpokhari is located at the top of Bhotang village in Panchpokhari Thangpal Rural Municipality of Sindhupalchok district. There are five natural ponds in Panchpokhari. And next to the pond there is a temple of "Mahadev". Recently, the number of internal and external tourists going to Panchpokhari trekking via Melamchi-Bhotang is increasing day by day.

2. Bhairav Kunda- Unexplored Trekking
Bhairav ​​Kund is another must-visit place in the Sindhupalchok district. It is the best destination for trekking and hiking. This pond is at a height of 4240 meters above sea level. It is also a lake of religious importance. In religious terms, Bhairava means the angry form of Lord Shiva and Kund means a pond. As this place has a lot of religious significance, many devotees visit this place. You can reach here via Pantang – Dhomong Pokhari – Dhalle Pokhari – Khani Gaun – Yormu Kharka route.
3. Jugal Ice Range / Base Camp
The Jugal Ice Range is spread over the northern part of the Sindhupalchok district. All the mountains under this can be easily seen from different parts of the district. And the mountains in the Jugal glacier can be seen from the Kathmandu Valley. Similarly, the closest mountain to Kathmandu is Jugal. Lenpo Ghyang (6979 m), Dorje Lakpa (6966 m), Madiya, Gyalzen Peak (6151 m), Yuwa Peak and other mountains are included under this snow chain.
4. Bhotekoshi River - Rafting & Bungee
Bhotekoshi is a popular tourist spot in the Sindhupalchok district. In Bhotekoshi, there are activities like bungee, rafting, cannoning, and rock climbing. Bhotekoshi bungee is one of the first bungees in Nepal. Its height is 160 meters. Similarly, the nearest place for rafting from Kathmandu is Bhotekoshi.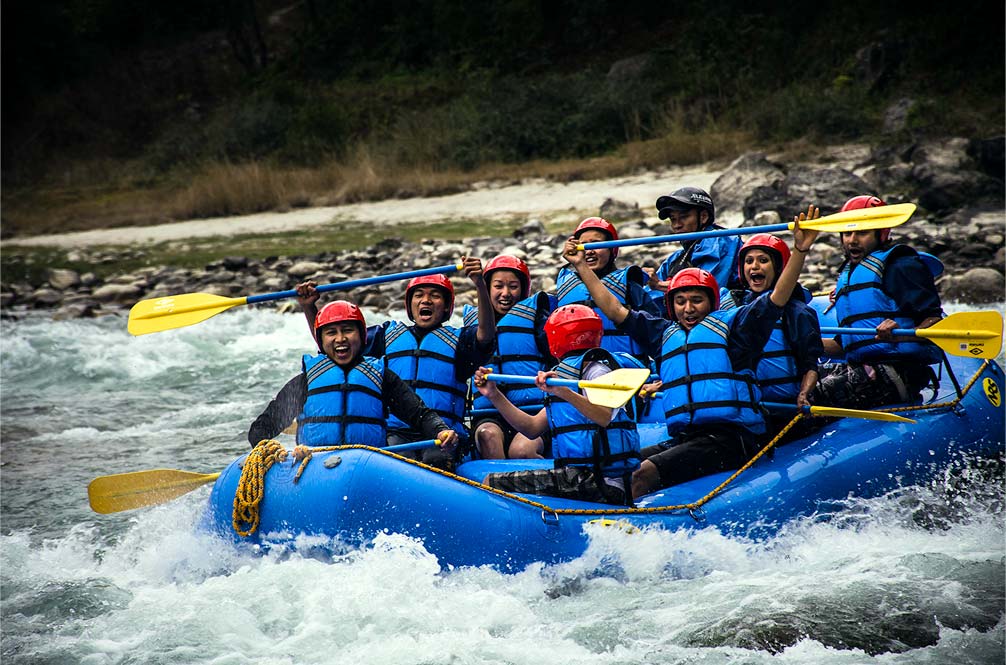 5. Sukute Beach - Recreational Activities
Sukute Beach is the perfect destination for a day of fun. On the banks of the Sunkoshi River, this place is perfect for spending time in a peaceful environment while observing the mesmerizing scenery of nature. Many tourists go to Sukute to stay overnight and they also enjoy bungee rafting. There are a luxury and facilities-rich resorts in Sukute Beach.
6. Chautara - Headquarter of Sindhupalchowk
Chautara, the headquarters of Sindhupalchok, is very rich in nature and culture. And this city also has its own history. Chautara at an altitude of around 1500 meters above sea level is the administrative and commercial centre of Sindhupalchok. From here you can see the mountains of the Jugal glacier. Newar, Tamang, Ghale, Brahmin, Chhetri and others live here. Chautara has Krishna Temple, Ganesha Temple, Shiva Temple, Tudikhel, Buddha Park, etc. as a centre of attraction.

7. Helambu and Melamchi
Helambu - Melamchi is a beautiful place in Sindhupalchok which is preferred by tourists. Melamchi Khanpani project is in Helambu. Helambu has been a great tourist destination. Helambu Great Trail, local life, and culture are the attractive elements here.
Melamchi is the main point to go to Panchpokhari, Palchoki, etc. Situated on the banks of the Melamchi River, this beautiful town is also a commercial centre of the Sindhupalchok district. This area is very famous for trout fishing. There are also hotels with facilities in Melamchi and Helambu.
Hyolmo art and culture is the main attraction of this area. Helambu and Melamchi do not represent only one place. It represents the entire region. Helambu and Melamchi areas also have many places to visit. Like, Ama Yangri, Sermathang, Palchoki, Haibung, Bhotechour, Chisapani, Gufa Danda etc.
8. Gaurati Temple
Gaurati Temple is the most famous religious place in the Sindhupalchok district. This temple is located at a distance of about 6 km from Chautara. As it is located on a hill, you can see the beautiful mountains and observe the surrounding settlements. Especially people who have religious faith visit this temple. Having the opportunity to visit Chautara during the Gaurati journey is also an advantage of the trip.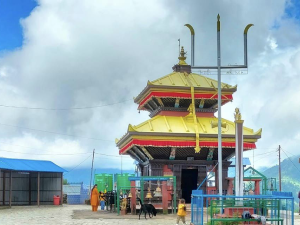 9. Tatopani - Hot Spring
The famous Tatopani is located in the Bhotekoshi rural municipality of Sindhupalchok district. The name Tatopani refers to two aspects. One's Tatopani customs. From where Nepal-China trade takes place. Another hot water stream. Where 44-degree hot water flows naturally. It is also a centre of faith. Every year, thousands of tourists go here to bathe in the hot spring.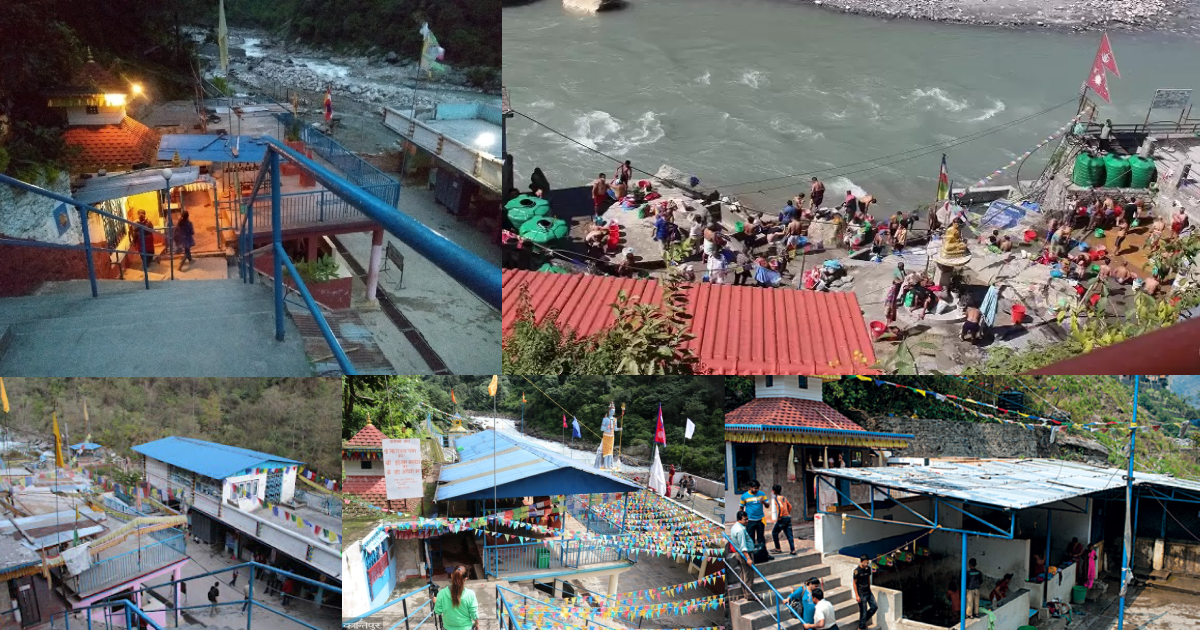 10. Bhotechaur Tea Garden - Mini Illam
Bhotechour is famous for its tea gardens. It belongs to the Melamchi municipality of Sindhupalchok district. It is also known as "Mini Ilam". After about 2-3 hours of travel from Kathmandu via Sankhu, you can reach Bhotechour. Tea is cultivated in most areas of this naturally beautiful place.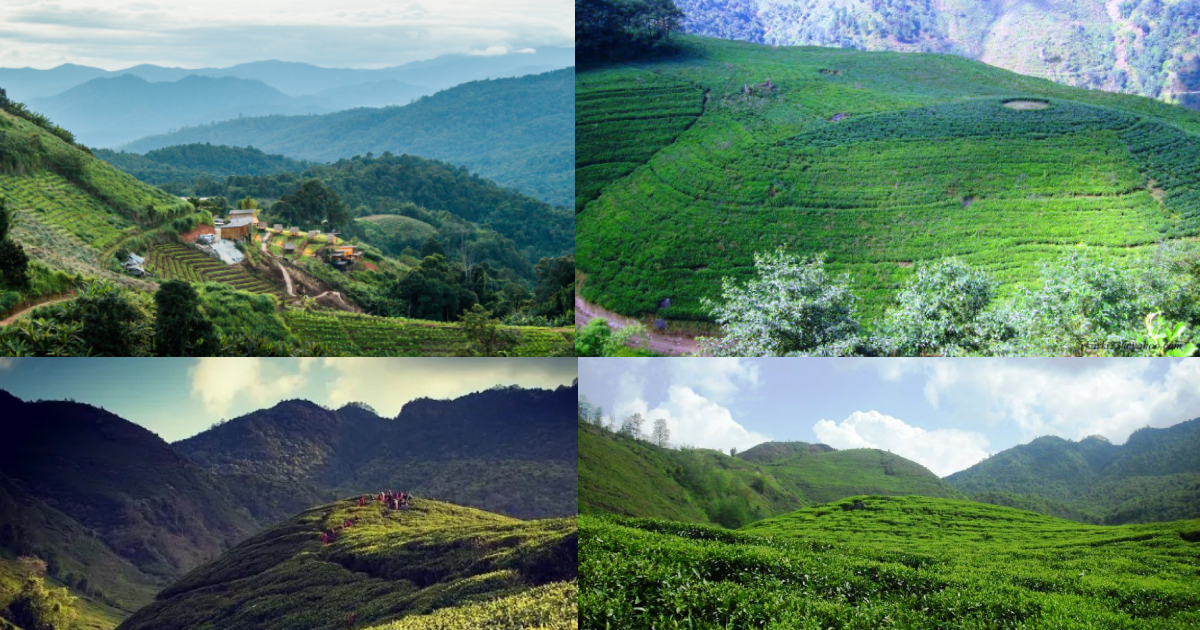 11. Palchowki Mai temple
Palchoki Mai is the centre of the holy faith of Hindu devotees. This religious place is in Helambu rural municipality of Sindhupalchok district. Since long ago, there has been a custom of worshipping in this temple on behalf of the state. The name of Palchok river or Palchoki Mai is also added to the naming of Sindhupalchok. In fact, it is said that the name Sindhupalchok is derived from the names "The Sindhu river" and "Palchok river". Famous temples of these two names are also located here.
12. Tauthali
Tauthali is one of the must-visit places in the Sindhupalchok district. It is located in the Tripurasundari rural municipality of the district. There is also a temple of the famous Tripurasundari Mai in this place. The temple is thousands of years old. In particular, Tauthali is known as a centre of original art, culture, lifestyle, natural beauty and religious faith. The famous "Dahi Jatra" is another attraction of Tauthali.
13. Duguna Gadhi
Duguna Gadhi is an excellent destination for historical and adventure tourism. It is situated in Bhotekoshi rural municipality, Sindhupalchok. Dugunagadi had an important contribution to the Nepal-Tibet war. This fort was established by the Prime Minister of Nepal Jang Bahadur Rana to fight with Tibet. There is a dense population of Sherpa people in this area. This place falls under Bhairav ​​Kunda trailing route. Homestays are also arranged here for the reception and hospitality of tourists.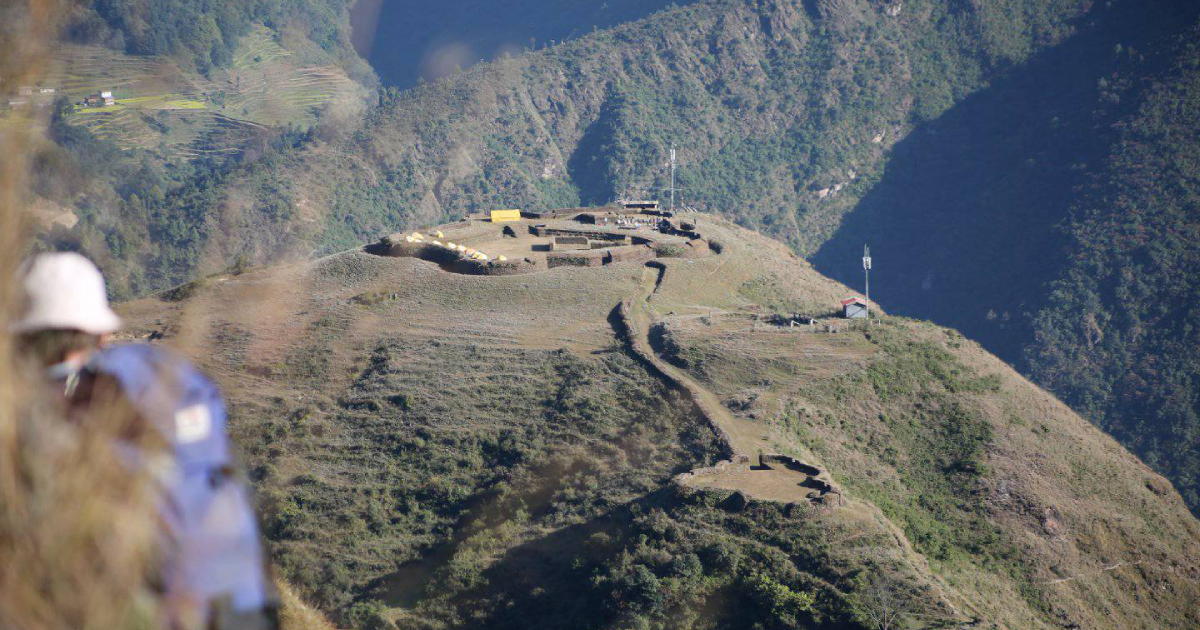 14. Ama Yangri - The Protector of Helambu
Ama Yangri is a wonderful tourist destination under Helambu trekking circuit, Sindhupalchok. From this place, which is about 3771 meters above sea level, the mountains of Jugal and Langtang glaciers can be observed very closely.
Ama Yangri has an original temple or monastery on its head. In fact, people here worship Ama Yangri as a powerful goddess. It is believed that visiting here will fulfil your destiny.
Ama Yangri is considered the patron deity of the Helambu area.
15. Gufa Dada - Melamchi, Sindhupalchowk
Gufa Danda is a famous tourist spot located in Melamchi Municipality-09 of Sindhupalchok District. This place came into the limelight after the climate conference inaugurated by President Bidya Devi Bhandari in 2075 BS. After that conference, various tourist infrastructures have been built here. Recently, Gufa Danda has developed as a centre for domestic tourists. It is located at a distance of about 60-65 km from Kathmandu. Therefore, this place can be considered a destination that can be easily visited at a short distance from Kathmandu.
From the Gufa Danda, you can see the panoramic view of the mountains of Jugal glacier, Dhulikhel, and Nagarkot. The clean Himalayan climate, local culture, and art are the main attractions here. Lately, picnics, conferences and meetings of various associations have been organized here. Tourists say that there are not enough hotels and restaurants so they have to make something healthy.
The local government aims to create a master plan for tourism promotion and establish a tea garden, forest feast, view tower, resort, playground, and museum reflecting the culture in this area.
16. Barhabise
Bahrabise is a beautiful place full of nature, culture, and heritage in the Sindhupalchowk district. Bahrabise is located in the northern direction of Sindhupalchok district along the Araniko highway. Green hills, a clean natural environment, and the confluence of the Sunkoshi and Bhotekoshi rivers are the main attractions here. Similarly, Bahrbise is the oldest and main commercial centre of the Sindhupalchok district. All the goods coming in from the Tatopani pass which is connected to China pass through Bahrbise.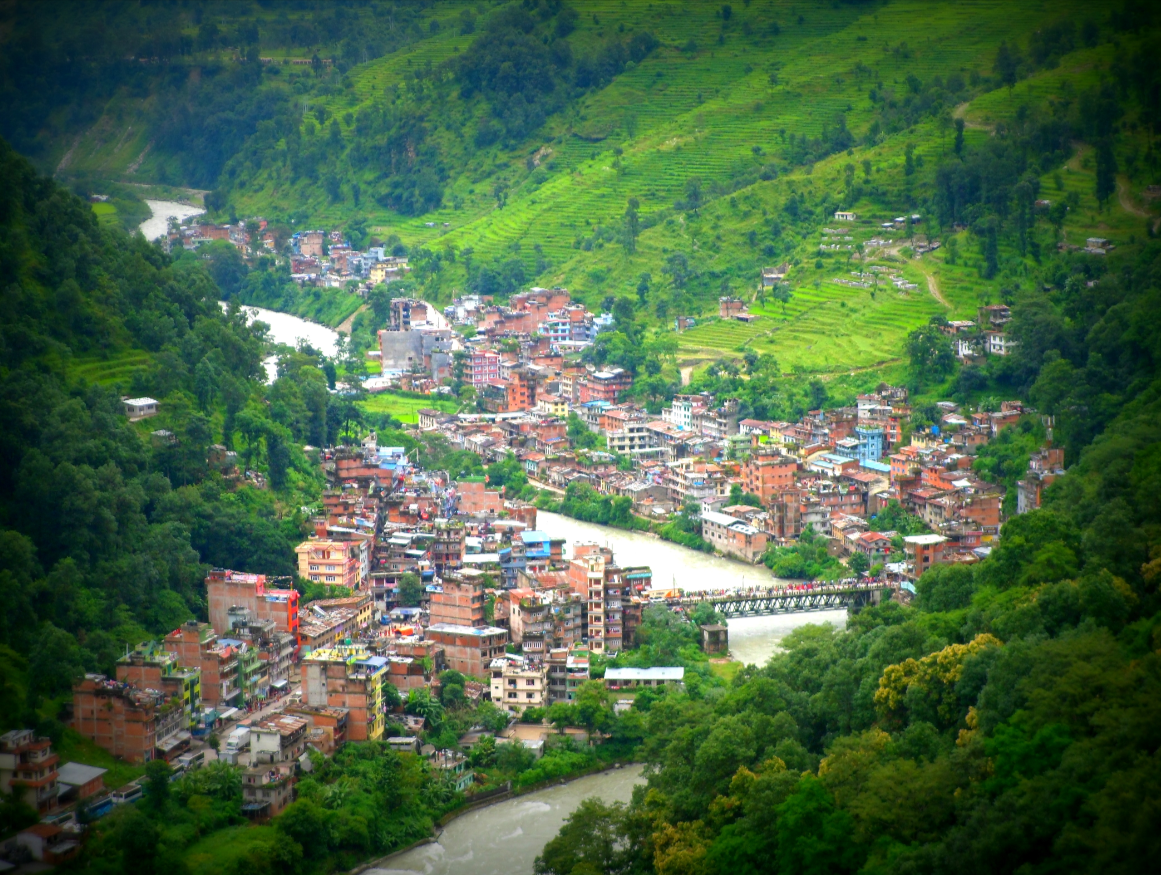 17. Piskar
Piskar belongs to Sindhupalchok District Tripurasundari Rural Municipality. This place is important from a natural and historical point of view. Piskar is one of the areas that raise voices against autocratic Panchayat rule in Nepal. This place has a natural heritage, an original culture, language, and food. Many Thami communities live in Piskar.
18. Mude
Mude Bazar is a beautiful destination in Sindhupalchowk. It is located near the Dolakha district. if you are visiting Kalinchowk, you should go through Mude Bazar. During the journey to Dolakha, Mude Bazar may be the best rest place for every traveller. There are many numbers of hotels & resorts in Mude Bazar.
Probably, everyone must have heard the name of Mude Potato brand.
19. Chisopani - Sindhupalchowk
Chisopani is the famous place amoung the tourist specially for enjoying with nature and to stay overnight. It is located in Melamchi-03, Sindhupalchowk. Chisopani is located between Sindhupalchowk, Nuwakot and Kathmandu under Shivapuri Nagarajuna National Park.
Chisopani is the natural view point fromwhere every one can observe Jugal Mountain Range, Dorjelakpa, Langtang etc.
20. Sangachowk Gadhi
Sangachowk Gadhi, also known as Sangachowk Danda, is an important historical site located in Sindhupalchowk district of Nepal. Perched atop a hill, Sangachowk Gadhi holds great significance in the country's history and serves as a reminder of the bravery and sacrifices made by the people of Nepal.
The term "Gadhi" translates to "fort" in English, and Sangachowk Gadhi was once a formidable fortress strategically positioned at the convergence of the Indrawati and Sunkoshi rivers. The location provided a vantage point, enabling the defenders to monitor the movement of armies and safeguard the region.
21. Harlang Barlang
Harlang Barlang is one of the famous places in Sindhupalchowk. It is a religious site located in Chautara Sangachowk Gadhi-01, Syaule. There is the temple of Indreshor Mahadev which also has a beautiful natural cave. Many pilgrims come here full of faith & belief. During the Harlang Barlang journey, you can explore local culture, products, heritages, society, hospitality, and more. From here, you can observe amazing views of mountains, villages, hills, and rivers.
22. Chyochyo Danda
Chyochyo Danda is another place to visit in Sindhupalchowk. This place lies in Jugal Rural Municipality, in the northern direction of Chautara. And, this is in ward no.2 of Jugal. Moreover, the altitude of Chyochyo Danda is 3632 Metres from sea level. So, from this place, visitors can observe the beautiful Jugal Range, Langtang Range, & Helambu Region. The natural environment of Chyochyo Danda is really amazing.
23. Dragon Rock (Shila)
Dragon Rock is the very isolated destination among the tourists. But, it has capability to attract the mass number of tourists. This place is located between Langtang and Jugal Himal and in the lap of Dorjelakpa Himal. It is at an altitude of 3600 meters above sea level. And, This rock is located in a dense forest at a distance of about 35 km to the north of Baruwa village, Ward No. 2 of Panchpokhari Thangpal Rural Municipality. Futuremore, The shape of this rock is exactly like that of Dagon. Therefore, it calls Dragon Rock. The length of this rock is 100 feet and the width is 30 feet.
According to locals, Chauri shepherds found this place about 200 years ago. Due to the lack of publicity, the development of tourists here has not been possible.
24. Nepemasal: Base Camp Of Jugal Range
Nepemasal is one of the best tourist destinations. It lies on the lap of the Jugal Range. Actually, It is the base camp of the Jugal Range. It is rich in diversity in natural & wild environments. Likewise, cultural, and religious diversity is another attraction. It has religious significance. It is believed that Padmasambhava did meditation here. So, it has great religious value. Nepemasal is at an altitude of approx. 3000 metres. Moreover, Nepemasal is a historic, tourist,& religious centre.
If you are searching best trekking places nearby Kathmandu, Nepemasal is the best & accessible destination. Furthermore, Nepemasal is the base camp of different 11 peaks belonging Jugal Range. Himalayas life, culture, nature, hospitality, beauty, people etc. are the attractable things in Nepemasal.
Apart from the above, Sindhupalchok district has many destinations to visit. Like Piskar, Mude, Jalbire, Lisankhu, Balefi, etc.
Weather of Sindhupalchok
Sindhupalchowk district has a subtropical climate with four distinct seasons:
spring, summer, autumn, winter.
Spring (March to May): In Sindhupalchowk, spring is a mild and pleasant season with gradually warming temperatures. During this time, the average daytime temperatures range from 15 to 25 degrees Celsius (59 to 77 degrees Fahrenheit). It is a popular season for trekking and outdoor activities due to the usually clear weather and the hills and valleys adorned with colorful blossoms.
Summer (June to August): Sindhupalchowk experiences warm and humid weather during summer. The temperatures can range from 25 to 35 degrees Celsius (77 to 95 degrees Fahrenheit), or even higher in certain areas. It is the monsoon season, with frequent rainfall, especially in July and August. It is advisable to be prepared for rain and carry appropriate rain gear if you plan to visit during this time.
Autumn (September to November): Autumn is regarded as one of the best seasons to visit Sindhupalchowk. The weather during this period is generally mild, with clear skies and comfortable temperatures. Daytime temperatures range from 15 to 25 degrees Celsius (59 to 77 degrees Fahrenheit), making it an ideal time for trekking and outdoor activities. The landscapes come alive with vibrant colors due to the autumn foliage, creating a visually appealing experience.
Winter (December to February): Winter in Sindhupalchowk can be cold, particularly in higher elevations. Temperatures often drop below freezing, particularly during the night and early morning. The average daytime temperatures range from 5 to 15 degrees Celsius (41 to 59 degrees Fahrenheit). It is advisable to carry warm clothing, especially if you plan to visit higher altitudes or engage in trekking activities during this season.